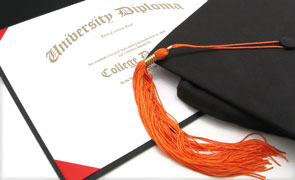 As part of an audience of parents of college-bound high-school juniors I was flabbergasted to hear the dean of admission brag that "80 percent of our students study abroad for a semester."
So we'd be paying 40 grand a year so our daughter could learn how to party in a different language?
More than any other expenses, college costs have gone through the roof—increasing more than 300% over the last 20 years—greater than anything people spend money on except for tobacco! These costs wouldn't be so painful if the parents or students didn't have to foot them. Unfortunately, while federal grants were 70 percent of federal student aid 30 years ago, loans now make up 70% of the cost.
What's most infuriating is that these colleges could use their huge endowments to subsidize tuition; the median endowment per college in 2005 was a whopping $71.6 million. It gets even more outrageous: the 57 colleges with more than $1 billion in endowments have doubled their fees over the last decade—despite tripling their wealth over that same time period.
So rather than tackling the cost of your kids' sheepskin is by starting a 529 college savings plan, we recommend saving ON college costs.
WAYS TO SAVE BIG BUCKS ON YOUR KID'S EDUCATION
1. Uncle Sam wants your kid. If your kid is willing to commit some time to—or a career with—military service, it could be worth your while. For example, the Montgomery GI Bill provides money for college if your child is willing to serve a couple of years in the military first.
2. Save money by taking advantage of your kid's grades and scores because they help the colleges "compete" for smart kids. Keep in mind that SAT scores matter just as much for merit aid as they do for admission: Some schools even publish cutoff test scores for scholarships on their Web sites. So if your kid's SAT scores are close to the cutoff, it's worth spending $25 to take the test again. State merit grants for kids with B averages: In addition to college merit grants, 35 states offer merit programs for kids with good grades. See the end of this section for some web-sites that can help you search for scholarships.
3. Save money by applying for financial aid if you think you qualify. Most of Uncle Sam's money—about $7 billion—is distributed through Pell Grants To get this money you will need to file the FAFSA, the federal government's instrument for finding out how much each family can pay for college. See the end of this article for the web-site that will tell you if you qualify.
4. Can't get into—or can't afford—Harvard? Go to Harvard Extension School for a fraction of the price! Talk about bang for your buck: Harvard Extension charges about $550 per lecture course compared to about $4,000 per course at Harvard College.
5. Go to a school with a great co-op program. These are a win-win: you earn money in your field while you're learning AND are more likely to get a fulltime job—because you already have experience—once you graduate. The authors of Best Value Colleges (more details below) are particularly impressed with the programs at Georgia Tech and University of Missouri.
6. Ironically enough the "for-profit" universities might offer more bang for the buck than the non-profit ones. The University of Phoenix, for example, provides education for working adults at prices well below those of private, not-for profit universities. Most likely spurred by its competitive pricing, the U of P has seen a surge in applicants among college-age students and currently 18-to 22-year olds are nearly 10% of its student body of 160,000.
7. Consider one of the best and least talked-about bargains around: community colleges. The average annual community college tuition is $1,518 compared to $4,000 at four year public schools and $17,000 at private four-year universities. Just make sure your child checks with the four year college to which he or she plans to transfer to ensure that the credits will be accepted.
8. Check out the resources at the end of this section that will help you find "generic" colleges that offer "name brand" quality education. There are two great books that offer a Consumer-Reports view of getting the biggest bang for you buck when it comes to your kid's sheepskin.
Great books:
America's Best Value Colleges, The Princeton Review: What does Ball State University College of the Ozarks and Yale University have in common? Bang for the buck; If you buy nothing else, get this book! It not only lists the 150 colleges that are competitively priced but, but what students do after graduation. Especially useful is the three page section in the front of the book: What Can Students Do?
Discounts and Deals at the Nation's 360 Best Colleges, Bruce Hammond
The Best 361 Colleges, The Princeton Review: One of the best investments you'll make; for one thing it's one of the few books that uses critiques by the students themselves, such as whether the professors are any good, whether the profs make themselves available after classes, whether too many teaching assistants teach classes and whether the students are happy with financial aid.
Good web-sites that help you "find money for college:
www.wiredscholar.com, www.collegeboard.org, www.fastweb.com, www.scholarshipexperts.com, www.kiplinger.com/tools/colleges.
Good websites that will help you see if you qualify for financial aid:
www.collegeboard.org, www.finaid.org, www.salliemae.com, www.studentaid.ed.gov.
A resource for community colleges: www.ccweek.com. If you click on "100 Top Degree & Certificate Producers" you will see how your local community college stacks up against the competition.
A resource for online degrees: www.classesusa.com.